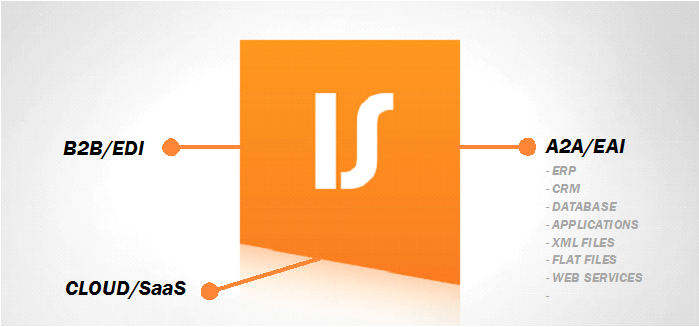 Inobiz Integration Server – IS
Integrate with your Business Partners (B2B/EDI), Applications (A2A/EAI), Cloud/ Saas and Data/Database in one comprehensive solution.
In Inobiz IS you can configure flows to receive, convert and transmit data and monitor all traffic. It is a flexible,scaleable and yet powerful data-integration platform supporting a wide range of protocols.
Integration Overview
Integrate any application and data across your hybrid IT with speed and ease. Integrate any combination of cloud, SaaS and on-premises applications.
Inobiz IS Strengths 
Inobiz IS can be modified and extended as your organization changes. The functionality and capacity can grow with your needs. 
It is the customized programming language EDI-C that makes Inobiz IS one of the fastest Integration Server Solutions, both in performance and implementation time. 
An operating environment with powerful routing that is easy to configure. By setting up routing rules, you can redirect messages to the correct integration flows. Graphical Routing makes it clear and simple. Routing rules are set up in Inobiz ISM Integration Server Manager and use the same tree structure for format conversion as in Inobiz DS.
B2B/EDI Overview
Transform the way you do business with your trading partner network. Effectively integrate with your vendors, suppliers, distributors, partners, and marketplaces to simplify processes and trade smarter.
Supports common EDI standards
Built-in support for a wide variety of traditional and modern EDI standards including XML, JSON, X12, EDIFACT, HL7, RosettaNet, Tradacoms as well as the ability to define custom standards. Read more on Inobiz DS
Industry standards communication
Supports a wide range of trading partner communications — FTP/Secure FTP, Web Services (REST API,SOAP), Mail (SMTP/POP3), MQ, SQL/ODBC, AS2 (option), OFTP/OFTP2 (option), X.400 (option)
Trading partners
Set up and manage all trading partner components from Integration Server Manager to quickly find, configure and deploy changes for your partner communications.
Monitor & Tracking
Gives you visibility into all activities, and efficient notification.
API Overview
With Integration Server you can design, secure and scale APIs to exchange business information between applications, or publish APIs as connections for trading partners and clients to consume. 
Integration Server Manager supports the full lifecycle of APIs in a hybrid environment. Configure APIs and expose real-time integrations effortlessly. Centrally test and deploy APIs. Monitor the health of APIs with Integration Server Manager.
Integration Server Manager ISM contains the tools to publish a Web API and using web service client to consume web service based on REST and SOAP.
With Inobiz DS Graphical Data Mapping tool you can call an external Data Quality API within your Mapping to ensure data is normalized and corrected.   


Inobiz IS consists of three parts: